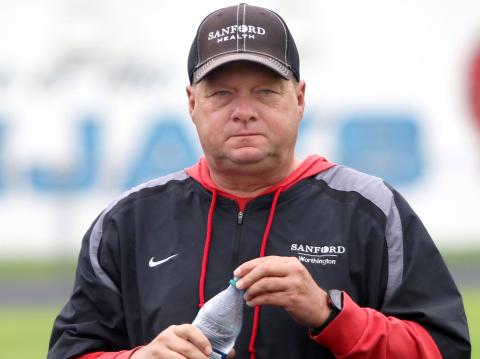 MINNEAPOLIS, MN - April 4, 2018 - A Worthington native with decades of respected athletic training experience, Joel Krekelberg will receive the Fred Zamberletti Award from the Minnesota Chapter of the National Football Foundation. He will be recognized at the 11th Annual Minnesota Football Honors on April 29 at U.S. Bank Stadium.
Krekelberg is a 1978 graduate of what was then known as Mankato State University. He got his start in athletic training working at New Orleans Saints training camp in 1977 and 1978. At the end of camp in 1978, he landed a full-time position with the Houston Oilers, where he spent seven seasons. Krekelberg tended to the Oilers' training needs as running back Earl Campbell and the team played in back-to-back AFC Championships in 1978 and 1979.
Krekelberg returned to his hometown of Worthington in 1985 to go into the real estate business with his father, and has been an appraiser for the past several decades. He did not leave athletic training behind, however, volunteering with local teams for 10 years before becoming a Sanford Health employee.
Now Krekelberg is in his 31st year as the athletic trainer for the Minnesota West Technical and Community College Bluejays, where he oversees all sports' athletic raining needs. He is also the athletic trainer for Worthington High School, where he graduated as a three-sport athlete in 1973.
The Fred Zamberletti Award is named for the legendary first athletic trainer of the Minnesota Vikings.
The Minnesota Chapter of the National Football Foundation will host the 11th Annual Minnesota Football Honors on Sunday, April 29, 2018 at U.S. Bank Stadium. The event is presented by the Minnesota Vikings and is the largest football awards event in Minnesota. Doors open at 2 p.m. for the 4 p.m. event. The event is open to the public. Tickets are on sale now. For tickets and additional information about this year's Minnesota Football Honors, please visit www.minnesotafootballhonors.com. For sponsorship information, please email lindsay@nffmn.org.