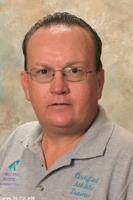 MINNEAPOLIS, MN - April 4, 2017 - The Minnesota Chapter of the National Football Foundation is pleased to announce Owatonna High School athletic trainer Terry "TC" Carlyle as the 2017 recipient of the Fred Zamberletti Award. Carlyle will be recognized at the 10 Year Anniversary of the Minnesota Football Honors on May 7.
Carlyle will begin his 28th football season at Owatonna this fall. In addition to his role taking care of Huskies athletes, he assisted in developing students' interest in the field of sports medicine. Carlyle's Owatonna High School Athletic Training Student Assistant Program for grades 9-12 has had more than 90 student participants since he started it in 1991. Many of these students have gone on to careers in athletic training and other medical fields.
Contracting through Courage Kenny Rehabilitation Institute - Owatonna, Carlyle is a weekly and on-call consultant with Medford and Blooming Prairie High Schools. He also consults with the Owatonna Police Department, Steele County Sheriff's Department, Owatonna Fire Department, Gold Cross Ambulance-Owatonna and four businesses in Owatonna. He is also on call for various youth sports in the area.
In 2007, Carlyle started organizing and hosting the Big 9 Athletic Trainers Annual Meetings. He is a member of the National Athletic Trainers' Association and the Minnesota Athletic Trainers' Association. The Colfax, Iowa, native graduated from William Penn College in 1986, and became a Certified Athletic Trainer in 1988.
The 10-Year Anniversary of the Minnesota Football Honors will be held Sunday, May 7, 2017 at U.S. Bank Stadium. College and professional football Hall of Fame inductees are scheduled to attend to celebrate the best of Minnesota football. The largest football awards event in the state is presented by the Minnesota Vikings. The event is open to the public. To register or find additional information about this year's Minnesota Football Honors, please visit www.minnesotafootballhonors.com . For sponsorship information, please email lindsay@nffmn.org .