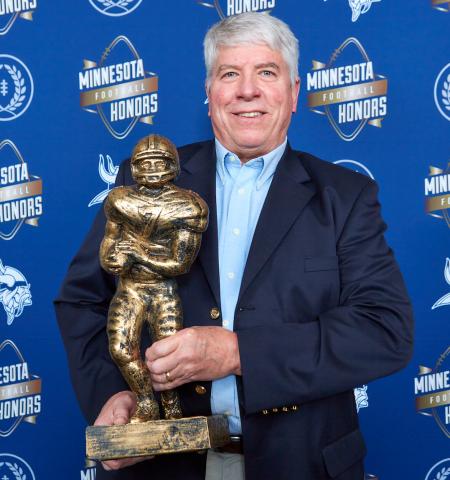 FOR IMMEDIATE RELEASE: DOUG NELSON TO RECEIVE MINNESOTA FOOTBALL HONORS FRED ZAMBERLETTI AWARD MINNEAPOLIS, Minn. – April 29, 2021 – The Minnesota Chapter of the National Football Foundation is pleased to announce athletic trainer Doug Nelson has been named this year's recipient of the Fred Zamberletti Award. Nelson will be recognized during a television broadcast in the first part of May.
"Doug has helped so many athletes get healthy and achieve their peak potential. His long career has touched the lives of players at every level," said Todd Fultz, President of the Minnesota Chapter of the National Football Foundation. "We are very excited to honor Doug for the difference he has made in the Minnesota football community."
Doug Nelson graduated from Augsburg University in 1976 with a Bachelor of Arts in Physical Education and Health. Nelson continued his education at the University of St. Thomas and earned a master's degree (1979) in Athletic Administration. Nelson was Augsburg University's part-time athletic trainer and equipment manager before he became the school's full-time athletic trainer, men's equipment manager and assistant baseball coach in 1980.
Nelson also served as an Assistant Athletic Trainer for the Minnesota Twins from 1978-1989 (home games) and 1990-95. After working for the Twins, he was named the Certified Athletic Trainer at Brooklyn Center High School (1996-1997) and Eastview High School (1997-2014). Nelson currently holds the same role at Burnsville High School. Additionally, he has been an NFL Official Locker Room Attendant at Minnesota Vikings home games for 27 years.
This annual award honors the late Fred Zamberletti, the Minnesota Vikings' first head athletic trainer. While working for the organization, Zamberletti became an athletic training pioneer. After his long career as the Vikings' head athletic trainer, he was named the team's coordinator for medical services (1998-2001) and senior consultant/team historian (2002-2018).